I just got back from the first ever Quiz Olympiad, organized by the International Quizzing Association and held in the Olympic cradle of Athens, Greece. It was an historic weekend!
Some background: the IQA has been holding these European and international quiz tournaments for many years, but I've only attended one: the 2007 European Quiz Championships in Blackpool, England. That event was held in a cheerfully rundown Basil Fawlty-style holiday hotel on a chilly November weekend, but we were warmly welcomed by our British hosts. I was completely charmed by the international flavor of the proceedings and the bewildering difficulty of much of the material.
The 2016 Quiz Olympiad, by contrast, was held in an upscale five-star hotel in central Athens, and was attended by over two hundred competitors from all over the world. Twenty nations were registered in the flagship event, the international teams quiz. I was there as the captain of Team USA, which brought over our largest-ever complement of sixteen players. Some were quiz show champs you might recognize from TV: Ed Toutant and Dave Legler, seven-figure winners on Who Wants to Be a Millionaire; Brandon Saunders from Million Second Quiz; Jeopardy! college champion Shane Whitlock; and Raj Dhuwalia, the all-time winner on GSN's The Chase. Others, like Mark Ryder and Tim Polley, were just mild-mannered civilians who play IQA events remotely from the States, but are every bit as good as the names you know.
Here's the thing to know about top-level European quiz: it's an uphill climb for Americans. Our trivia canon privileges domestic history and culture to such a degree that it can be a shock to the American system when we're suddenly expected to have an equal familiarity with Uzbek road cycling, Croatian medieval history, contemporary Iranian poetry, Cameroonian jazz-funk, and Monegasque oceanography (all actual examples from the Olympiad, by the way). The specialty quiz on history had maybe five questions out of fifty that covered American history, roughly the same distribution given over to the Scandinavians or the Balkans. Don't get me wrong, this is the canon that makes sense for a mostly European field! But for America ever to really compete, we're going to have to suck it up and watch some soccer or something.
Still, Team USA acquitted itself well. We only finished in the middle of the pack on the team quiz, but then two of us medaled in the specialist quizzes the next day (Brandon Saunders's bronze in Digital Technology and my silver in Film). Shane took third in the knockout quiz, and Brandon and Tanay Kothari were gold and bronze in the speed quiz–evidently a young person's game. Three of the top ten finishers in the pairs quiz (including Ed Toutant's bronze with Belgium's Nico Pattyn) had U.S. players aboard. Maybe the most impressive feat by an American was Raj Dhuwalia's fifth-place finish in the individual quiz, just a few questions behind England's big names. Only England, Belgium, and Norway finished with more medals than our six. (Complete information and standings here.)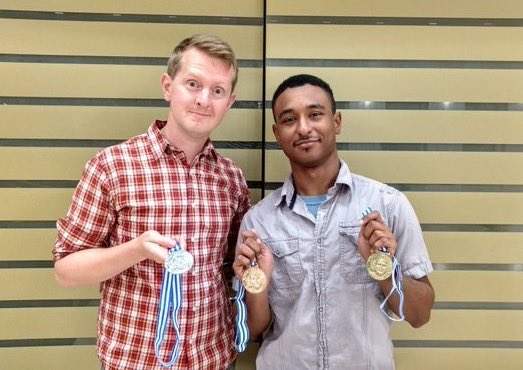 Putting on a big eight-event quiz weekend for hundreds of players in dozens of languages must be a logistical nightmare, but everything went off without a hitch, thanks to the hard work of Jane Allen and her IQA team. Events started and ended strictly on schedule, which is almost unheard of in my U.S. quiz tournaments experience. There was even down time for side trips to the Acropolis, the original 1896 Olympic stadium, and some nearby islands.
Sign me up for 2020, if I can pass the doping tests! If you think Team USA needs your skills as well, you can find out more about world quizzing events here.