Let's face it: the seven Junior Genius books I spent the last few years writing would have been maybe one-quarter as good without the funny, charming artwork of Mike Lowery. You know what kids don't want? Big unbroken blocks of text about 19th-century presidents. You know what kids do want? Funny cartoons of Andrew Jackson hitting some dude over the head with a cane.
But despite our two-year collaboration, which sometimes included detailed back-and-forth on illustration ideas, Mike and had never met! I live in Seattle; he lives in Atlanta. It's harder to get farther apart than we are and still live in the continental United States.
A couple weeks away I was invited to visit the headquarters of Mailchimp, the company that helps deliver 17,000 Tuesday Trivia e-mails for me every week. MailChimp is in Atlanta! I e-mailed Mike immediately (not with MailChimp, just the regular way) and at first he thought he was teaching a class that morning and wouldn't be able to meet up. Ships in the night. But look who I ran into in the MailChimp elevator that morning!
Mike even sketched something quickly for me while I was talking, what a guy. Pretty lame of me to ask, I guess, since he draws for a living. That would be like him asking me to write him some trivia for free.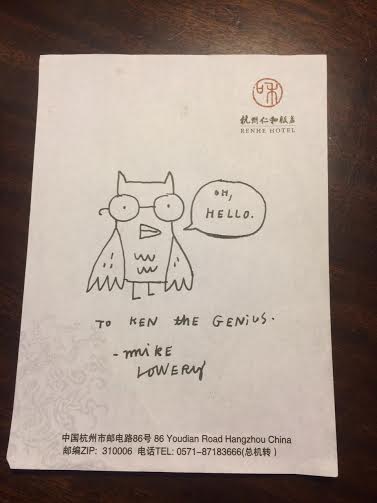 Larry Gelbart used to say that he never met Murray Schisgal, with whom he shared a co-writer credit on Tootsie, until they began accepting statuettes together at awards ceremonies. I'm happy that I no longer have to tell children that I've never met Mike! Instead I can say that he is a very nice man, and carries Chinese hotel stationery around with him for some reason.